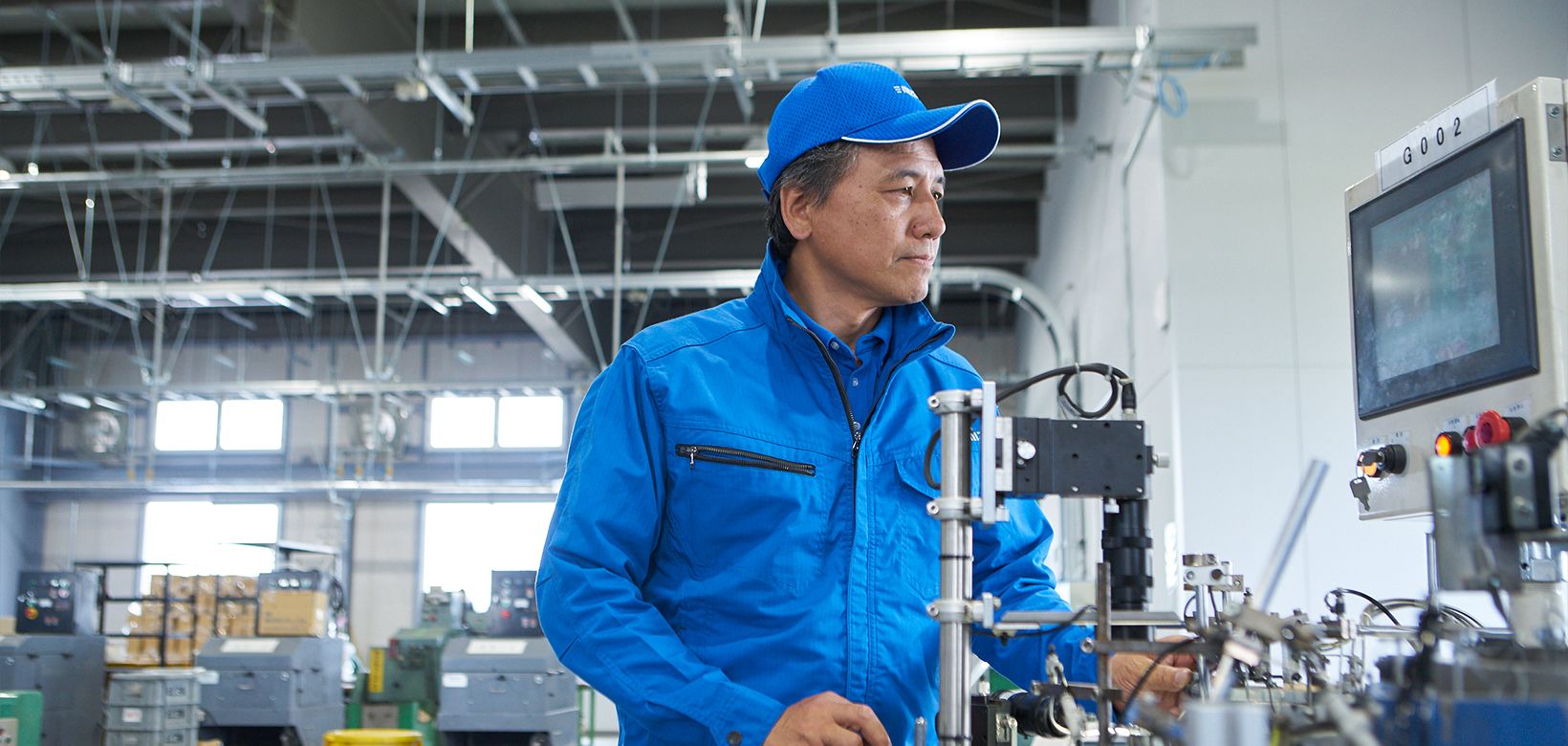 STORY#01
What is the process of accomplishing zero-defects in Muzuki?
There shouldn't be any defective product produced during the manufacturing process. Even though most manufacturers live up to the ideals of producing no defective product, it is in reality very difficult to be accomplished. Mizuki has adopted a serious stance toward zero defect production since 2006, and now zero defective production has become a common practice in Mizuki. So, what is the process of achieving the zero defects in the precision parts industry? Let's ask Mr. Yasuo Sugimoto, Director of Mizuki's Manufacturing Technology for the answer.
Produce no defect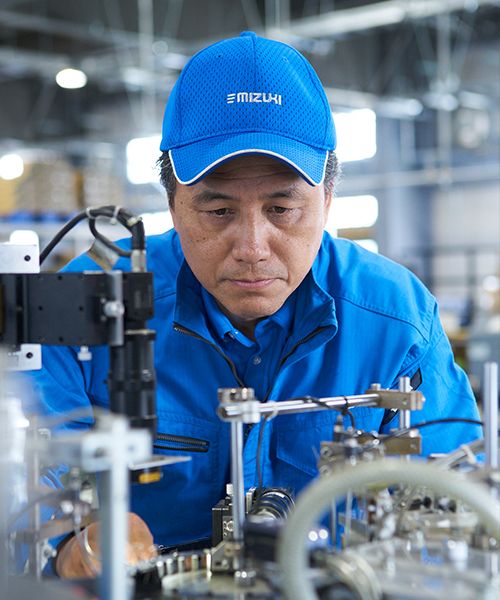 Everywhere in the manufacturing process is possible to produce a defective product, so at first, increasing the precision in the production stage, and strive to accomplish "produce no defect" as much as possible.
"In Mizuki's manufacturing floor, we devised to minimize the defects everywhere,"according to Mr. Sugimoto.
The machinery maintenance, for example, is running in the start checkup everyday, and surely a monthly routine check is applied to ensure the machinery is in the best condition. The technicians might also have to break down the machine for maintenance sometimes. By applying skilled technique to the systematic management structure, Mizuki is able to keep the production facilities in the best condition, therefore, produces high-quality products.
Besides, the control of manufacturing process is a must-have, too. Rather than using diagram provided by customers, Mizuki creates a product processing diagram of their own format, and then technicians produce the products according to the diagram. By doing so, we are able to minimize product variation as well as producing a high uniformed precision product.
Do not overlook defects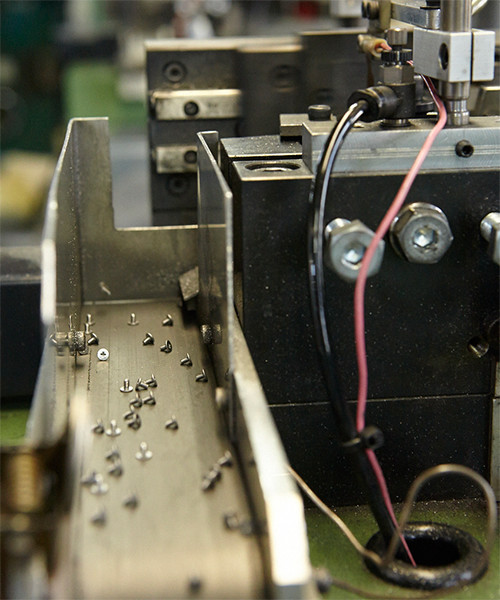 "Even though we try not to produce defective products as much as possible, it is still inevitable. So, the point becomes how to avoid the defective products flowing into the later manufacturing process."
Mr. Sugimoto explains that the identification of the defects is a key to achieve zero defect production.
Mizuki's rolling machine and heading machine are customized in-house in order to be able to find any defects right away. For instance, a sensor is mounted on a few millimeters of the rail that products flow through; when float or slippage is detected even for just a little, the rolling machine stops functioning. In addition, finished products have to go through belt conveyor before entering a receiving box. The belt conveyor is also original with Mizuki.
"When the machine stops because of the sensor's reaction, a defective product is very likely to have occurred, before and after the happening. So, when the machine stops, all screws left on the belt conveyor are discarded to avoid defective product flow into the later production process."
After the belt conveyor was introduced, the defects are dramatically reduced in the inspection stage.
Customize the optical sorting machine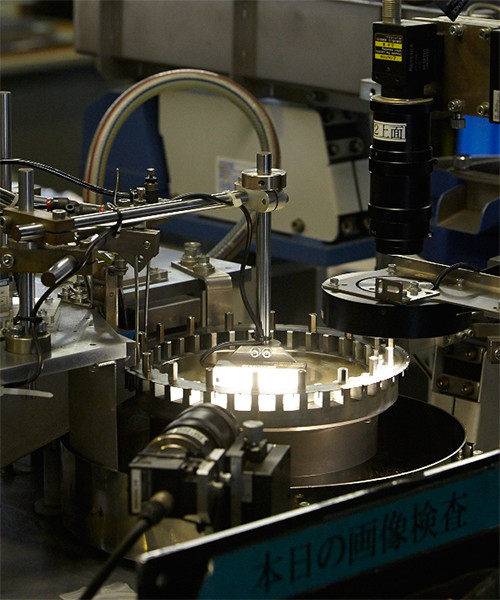 First of all, strive to produce no defect during the processing stage, as well as avoid the defects being flowed into the later process, however, that's still not perfect. There are cases, one in several million or few in tens of million, the defective products might flow into later processing stage. Ultimately, to achieve the zero defect production, a sorting machine capable of inspecting the defective product is indispensable.
"Because the inspection of screws was done by roller sorting machines or visual confirmation about 10 years ago, we couldn't stop the outflow of defective products."
After all, it is difficult to accomplish nearly zero defects by the inspection done by people's hands and eyes. The worst part is that the size of screws used for camera has downsized from about M1.6 to M0.8, plus the production volume has increased. It was beyond the possibility of preventing the defect outflow in the human eyes.
Therefore, Mizuki introduced an automatic sorting machine which is possible of running inspection exhaustively in a short period of time. At that time there was no sorting machine that can efficiently sorting the fine screw of M0.8.
"We set up a goal of inspecting 500 super micronized screws with a size of less than M0.8 every minute. And then, we requested the design of an optical sorting machine to the facility design office with continuous examinations to meet our required specifications."
Because the optical sorting machine is not a commercial product, but is a precision machine, we had a hard time to launch it. However, because it is capable of inspecting defective products exhaustively in a short time, our defective rate has decreased as a result of it. When the optical sorting machine find defective products, it is possible to determine whether the failure was occurred due to the rolling machine or heading machine. Accuracy of the product is quite improved, and we have made a significant progress toward the zero defect production.
Thoughts on "zero defect is a normal thing"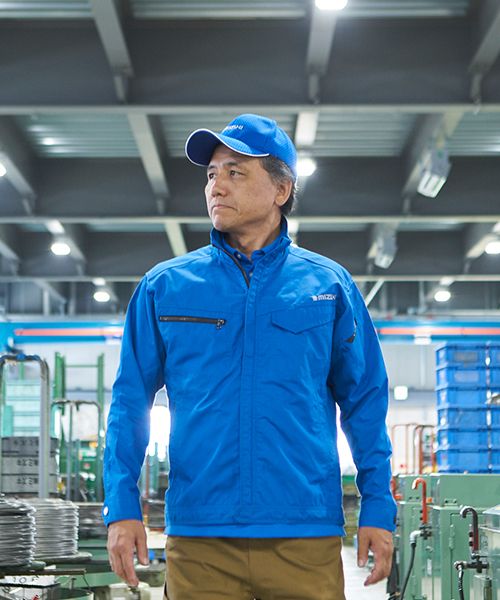 "Previously, it was a common thought that the idea of producing few defective products are inevitable." according to Mr. Sugimoto.
"Until now, I encounter people with such thoughts when I visit small companies. But, it's no good after all. As a person engaged in manufacturing, he/she should not deliver any defective products to customers."
Manufacturing sites are those that will always required daily improvements. Of each stuff, because there is aspiration for quality, Mizuki will be able to achieve a zero defect production.
"My ideal factory is a factory that does not produce even one single defective screw."
As long as Mr. Sugimoto keeps a close watch, Mizuki will not ship out the defective products.